Summary: King Arthur, Merlin, etc., etc.
Man, this movie is one of those guilty pleasures of mine. It must have been on cable a thousand times, and I seem to have watched it every one.
Nicol Williamson is amazing as Merlin. So over the top. Love him.
Taunting the king about how hot your wife is is probably a bad idea.
Ah, young Gabriel Byrne.
THEY'VE COME TO TAKE THE BABY.
Creepy little Morgana.
Weird rhino helmet. How would that come about, I do wonder.
What's with all the headbands? Like, everyone has one.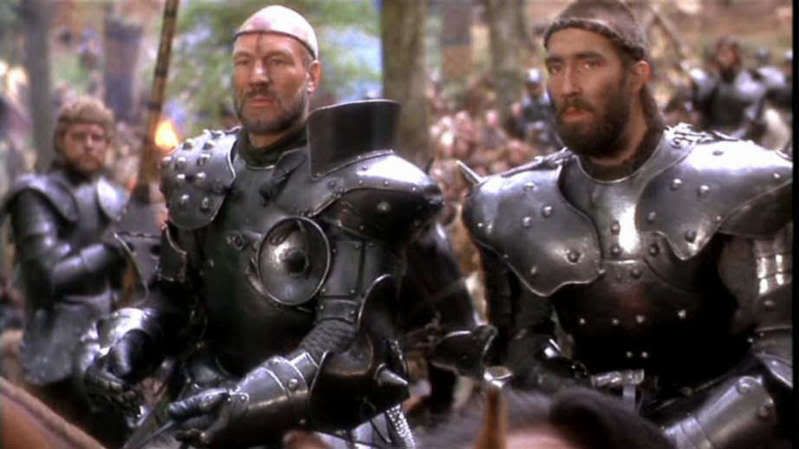 From http://www.sf-fandom.com/vbulletin/showthread.php?32956-Did-Patrick-Stewart-ever-have-hair
"You must put it back!"
OK, so Arthur's just like, "Yep, I'm king." That seems a little ... odd. He spends his life just being a normal guy, acting as squire to his brother, maybe hoping to be a knight some day. Then suddenly he pulls out the sword and he's king and he's not even questioning it? I mean sure, he tells Merlin that he doesn't know how to be king, but he still just accepts it.
Oh, the early '80s hair. You just can't avoid it, even in a movie set in the past.
"Whoa, like lightning!" Love that line!
Hee, Merlin whispering to the horses.
Merlin has the best lines. I have to resist just quoting them all. "Too Late."
Hey Liam Neeson! I forgot that you were in this!
Look! "...the Lady of the Lake, her arms clad in the purest shimmering

samite held aloft Excalibur from the bosom of the water..." Sorry. Can't resist a good Python quote.

I do like the ... earthiness of the movie.

Hi Helen Mirren!

"I protest my innocence!" Wow, that was not a good line reading.

What's with the helmet wings?

I think I like Guenevere's gold outfit during the duel most of all.

People keep asking Merlin to do magic "whatever the cost." It seems like past experience would have taught them all that that's a bad idea.

That's a weird metal turret thing Arthur and Merlin are standing on.

Mordred in his golden armor. So creepy.

I think I prefer this movie before the whole grail quest.

OK, I clearly stopped paying much attention at the end. But I've seen this so very many times...